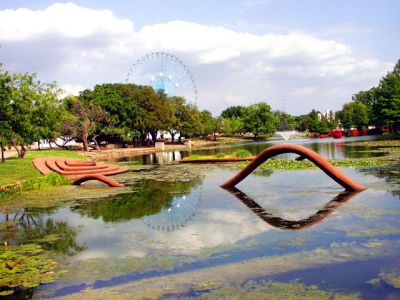 Leonhardt Lagoon, Dallas
The Leonhardt Lagoon is a very famous part of the Fair Park Midway. It has always been a great place for families to come and visit. Feeding the birds here has been a tradition for kids for years also.

The lagoon was created in 1936 by the Work Progress Administration (also called the WPA). The body of water gets its name from Dorothea Leonhardt, who was a famous philanthropist in the area.

The lagoon underwent a considerable bit of renovation during the 1980s. The whole thing was cleaned out, and access plants were removed. The location was then refilled with native Texas plants. So now, it is a modern day ecological haven for animals. Two serpentine style sculptures were also added in 1986. Designed by the famous Pat Johanson, they create a bridge that can be walked across, which also gives the visitor a great view of the new look of the lagoon.

If you are bringing kids, you may want to do the swan rides across the lagoon. There is also a Nature Walk that has twenty five different stops along the way. It is located between the Museum of Science and Nature and the Cotton Bowl.
Walking Tours in Dallas, Texas