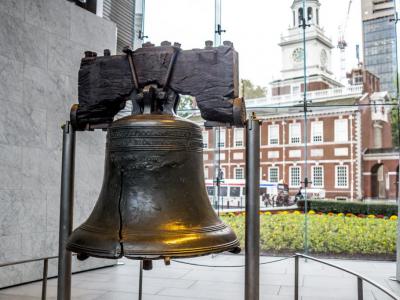 Liberty Bell, Philadelphia
(must see)
Since 2003, the Liberty Bell, formerly the State House Bell, has been kept in the Liberty Bell Center in Independence National Park. That's a short walk away from the Old State House, now Independence Hall. The bell was commissioned in 1752 by the Pennsylvania Provincial Assembly. They chose the London firm of Lester and Pack to do the casting.

The bell cracked the very first time it was tried. The local foundry operators, Pass and Stow, did the recasting. This was done twice. The recast bell was hung on the State House steeple. The crack reappeared in 1835 while tolling the death of Chief Justice John Marshall. The bell was brittle from faulty alloys of tin, pewter, and copper.

The Liberty Bell was used to ring on Independence Day, Washington's Birthday, and Election Day; and to summon legislators into session. In 1835 the bell was dubbed the "Liberty Bell" in the Anti-Slavery Record, an Abolitionist publication. Inscribed on the bell is the message: "Proclaim Liberty Throughout All the Land Unto All the Inhabitants thereof."

On April 1, 1996, Taco Bell announced it had bought the Liberty Bell and changed its name to "Taco Liberty Bell." They claimed the bell would be kept at Taco Bell's home office in Irvine, California. There was outrage, and Taco Bell had to admit it was an April fools' Day joke. The sale of enchiladas rose that week by $500,000.
Walking Tours in Philadelphia, Pennsylvania
Useful Travel Guides for Planning Your Trip
---