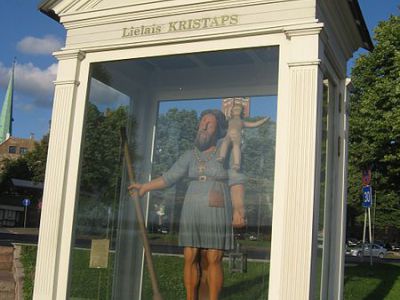 Lielais Kristaps (Big Christopher), Riga
Big Christopher is the legendary founder of Riga, who is widely recognized as the city's protector from floods and other natural calamities. Sailors and fishermen would habitually ask Big Christopher for help whenever they ventured out to the sea.

Legend has it that Big Christopher was a ferryman who used to carry people across the Daugava river. One night he heard a baby crying on the opposite side of the river and rushed to its rescue. As he picked up the baby from the water and carried it to the bank, the closer he got to the bank, the heavier the baby would grow. Finally, as he reached the dry land and put the baby down, he fell asleep almost immediately because of the extreme exhaustion. The next morning, when he woke up, to his surprise Christopher discovered, instead of the baby, a big pile of money.

According to the legend, that money was used to build the city of Riga. Some people claim that the baby was none other than Jesus himself, although the authorities prefer to keep it free from religious context so that everyone could love Big Christopher regardless of their faith and recognize him as the city's benefactor.

In 1683, a wooden statue of Big Christopher with the baby was installed in the place where the hero supposedly lived. Riga citizens come regularly to the statue; they bring flowers and light candles when asking for Big Christopher's protection. Today, the original statue can be seen at the Latvian Museum of History and Navigation, while its replica adorns the Daugava river bank.
Lielais Kristaps (Big Christopher) on Map
Walking Tours in Riga, Latvia
Useful Travel Guides for Planning Your Trip
--- Traveler's Choice of 12 Uniquely Latvian Souvenirs from Riga
Reemerged after regaining independence in the early 1990s, Latvia is anxious to reveal its beauty to the outside world. The country's capital Riga is a good showroom for the country's cultural riches and traditions. Here's the list of the unique Latvian products to look for while in...