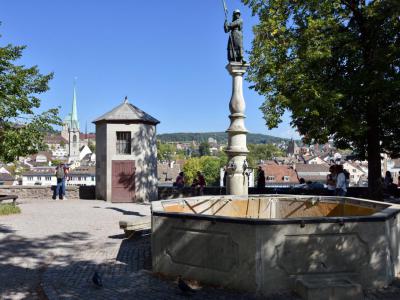 Lindenhofplatz (Lindenhof Square), Zurich
(must see)
Lindenhof is a hilltop park situated at the site of a Roman fortification, right in Altstadt on the banks of the Limmat. The Roman settlement here is known to go back to the second century, and the castle was used throughout the fifth and sixth centuries. A citadel was built on the hilltop in the fourth century, which had two-meter wide walls and ten towers. The castle was refurbished for Louis the German in the ninth century, but by the 13th, it had been abandoned, and the stones were being repurposed for other buildings in town.

While the Romans get most of the credit for first settling the area, Lindenhof had been important for the town well before that. As far back as the Neolithic and Bronze Age, from 4,500 to 850 BC, settlements have been centered here. Back then, the Sihl flooded most of the lower land, making the elevated hill ideal for settlement.

Since the 1700s, the area has been used as a public park. Bow and crossbow shooting was the primary draw in the early days.

A large fountain in the park, known as the Hedwig Fountain, commemorates the 1292 siege of Zurich by Duke Albert I of German. During the siege, Zurich's women dressed in full battle gear and tricked the Duke into believing that the city was protected. In reality, all of the men of Zurich were away at the time at another battlefront. The fountain was built in 1912 by sculptor Gustav Siber.

Why You Should Visit

The Lindenhof is a great spot to capture stunning pictures of Zurich. The elevation means getting a bird's eye view of the rivers and the lake. It's a quiet green space where you can pause in between your other adventures. There are playgrounds for the kids and a giant outdoor chess board for fun.

Tips

You can see the second-century Roman tombstone, found on this site in 1747, that bears the earliest record of "Turicum," which was Zurich's Roman name. It's on display at the Swiss National Museum. There is a copy on display in the Lindenhof.

There are numerous festivals and events held throughout the year; check with the tourism office to see if any are planned during your visit.
Lindenhofplatz (Lindenhof Square) on Map
Walking Tours in Zurich, Switzerland
Useful Travel Guides for Planning Your Trip
--- 16 Distinctively Swiss Things to Buy in Zurich
Zurich is Switzerland's largest city, and although it may feel like a bustling metropolis, the tranquil essence of the Alps flows fervently through the lively cobblestone streets, the buzzing train station, and the frenzied designer boutiques. Most shops in downtown Zurich open at 9 am and close...