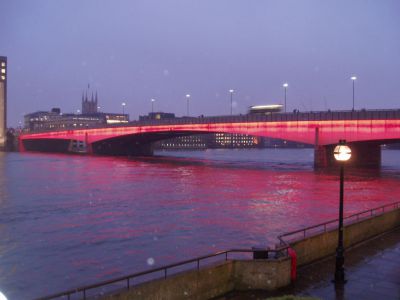 London Bridge, London
For nearly as long as the city of London has existed, a bridge has stood at this very location. The inaugural bridge was constructed over 2,000 years ago, and successive bridges were erected during the Roman era, William the Conqueror's reign, and King John's rule.

In the year 1014, the Danes held control of London, prompting King Ethelred the Unready, a Saxon monarch, to join forces with a Viking raiding party led by King Olaf of Norway in a bid to reclaim the English throne. They navigated up the Thames, fastened their boats to the wooden bridge supports, and, as the tide carried them away, pulled down the bridge behind them, giving rise to the famous chant, 'London Bridge is Falling Down'.

During the Tudor era, about 600 structures lined the bridge, some soaring to heights of over six stories. It was so densely populated that it became its own city ward. The heads of traitors were a gruesome sight, impaled on the poles of the bridge's gatehouse. However, as automobiles became widespread, and traffic continued to surge, the bridge began to sink at one end in the 1960s. The structure was acquired for £1 million (equivalent to $2.4 million at the time) by the McCulloch Oil Corporation, which then transported the bridge across the Atlantic and reassembled it, piece by piece, over Lake Havasu in Arizona, where it stands today.

The current London Bridge, completed in 1973, comprises three spans of pre-stressed concrete cantilevers and is rather minimalist in appearance, featuring only granite obelisks on the pier faces and polished granite cladding on the parapet walls.

Each autumn, on one Sunday, vehicle traffic yields to a unique tradition known as the Sheep Drive by the Freemen of the City of London, a practice dating back to the 12th century, where sheep replace vehicles on the bridge for the day.
Walking Tours in London, England
Useful Travel Guides for Planning Your Trip
--- London Souvenirs: 20 Distinctively British Products for Travelers
Most visitors to London consider shopping as part of their must-do London experience. From street markets to Victorian arcades to snobbish Sloane Square to busy Oxford Street, there are a host of shops selling items which typically represent this vibrant city. Whether you are shopping for souvenirs...