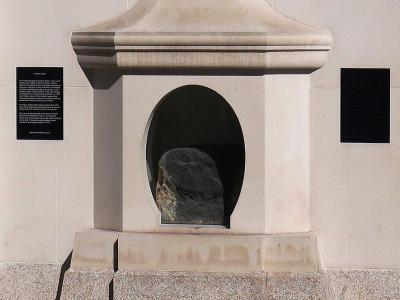 London Stone, London
The Bank could be argued as the central hub of the City, or perhaps Guildhall serves as its administrative core. However, London's true focal point, its mystical center, resides in the form of the London Stone. This unassuming block of limestone, believed to have been transported from Bath during Roman times, rests within an iron enclosure and is embedded into the outer wall of 111 Cannon Street, right at the intersection with St. Swithin's Lane. Regardless of your reaction to this peculiar relic, it has endured the test of time, dating back to at least the 1450 Peasants' Revolt when the rebellious Jack Cade, hailing from Kent, struck the stone and declared himself the "Lord of the City". Hitting the stone proved easier than confronting the King, yet both Cade's rebellion and his own rule were swiftly put to an end.

Numerous myths surround the London Stone. Some have referred to it as a "Druidic" marker linked to ancient rituals, while others speculate it may have been a Roman milestone. William Blake even wrote of it, saying, "In offerings of Human life...They groan'd aloud on London Stone..." Another legend suggests that medieval kings would strike the stone to assert their dominion, though, in the case of Jack Cade, this tactic proved less than effective.

One enduring myth insisted that moving the stone would trigger calamity. Nevertheless, the stone has been relocated several times. In 1742, it found a new home beside Saint Swithin's Church. Unfortunately, in 1940, the church fell victim to the Blitz and was replaced by an office building at 111 Cannon Street. In 2016, this building was demolished to make way for another structure, prompting the stone's relocation to the Museum of London. Subsequently, in 2018, with the new building in place, the stone was returned to its former location at 111 Cannon Street. As of now, there are no plans for further relocations, and the mystery surrounding this peculiar relic endures.
Walking Tours in London, England
Useful Travel Guides for Planning Your Trip
--- London Souvenirs: 20 Distinctively British Products for Travelers
Most visitors to London consider shopping as part of their must-do London experience. From street markets to Victorian arcades to snobbish Sloane Square to busy Oxford Street, there are a host of shops selling items which typically represent this vibrant city. Whether you are shopping for souvenirs...