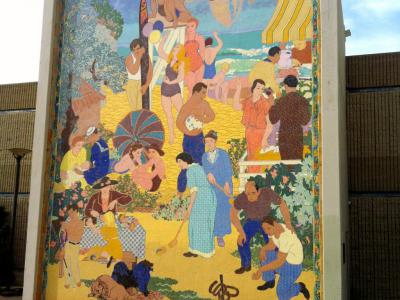 Long Beach Municipal Auditorium Mural, Long Beach
Measuring 38′ in height and 22′ in width, this glazed tile mosaic, titled "Typical Activities of a Beach and Harbor City", portrays beach recreation in Long Beach. It originally adorned the arched façade of the Municipal Auditorium that was built in 1931 at the foot of Long Beach Boulevard. Upon its completion in 1938, the mural was the largest piece of mosaic artwork created as part of a New Deal era Works Progress Administration project.

When the original structure was demolished in 1979 to build the Terrace Theater, the entire mosaic was saved by a community effort and reinstalled in 1982 as a freestanding piece at its current location at the juncture of the Promenade and Long Beach Plaza, on the south side of the former parking lot which is now part of the City Place Shopping Center. The artists who created it – Stanton MacDonald-Wright, Henry Nord, and Albert Henry King – have designed their signatures into the mosaic border. The site was commemorated as Harvey Milk Promenade Park in 2013.
Long Beach Municipal Auditorium Mural on Map
Walking Tours in Long Beach, California