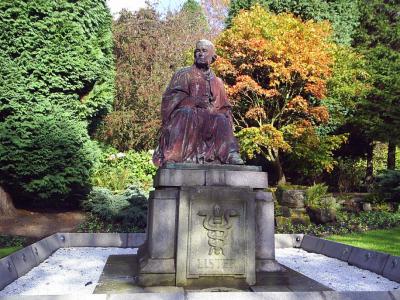 Lord Lister Monument, Glasgow
Seated alongside Lord Kelvin in the west part of Kelvingrove Park is a bronze statue of Lord Lister. This memorial pays tribute to Joseph Lister who succeeded Lord Kelvin as the President of the Royal Society in 1895 and whose research into antiseptic systems revolutionized medicine around the world.

Essex-born Lister was primarily based in Edinburgh and London throughout his long career, but it was during his tenure as Professor of Surgery at the University of Glasgow in the 1860s that he undertook his first experiments with carbolic acid. He pioneered the usage of carbolic acid to disinfect surgical tools and instruments, thus causing mortality rates in hospitals to fall by almost 50%.

The initial idea to commemorate Lister's legacy, mooted after his death in 1912, implied setting up a museum in the Royal Infirmary to display his old equipment. However, the outbreak of WWI and the subsequent lack of support from the Infirmary management led to a revised proposal of a simple statue.

The latter was cast in bronze, upon request from a royal commission, by Scots sculptor George Henry Paulin and was unveiled in Kelvingrove Park in September 1924. The sculpture depicts a vibrant figure of Joseph Lister clad in his academic robe. The monument is placed atop a grey granite pedestal which has a carved Caduceus symbol above Lister's name at the front of the plinth.
Lord Lister Monument on Map
Walking Tours in Glasgow, Scotland