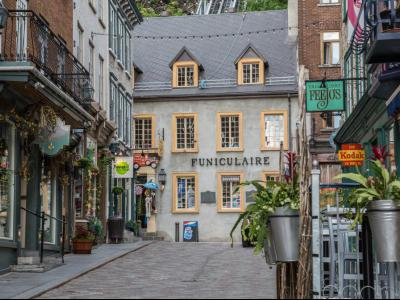 Louis Jolliet House (Maison Louis Jolliet), Quebec City
The main entrance to the Old Quebec funicular is located in the historic House Louis Jolliet, at 16 Petit-Champlain Street. One of the earliest dwellings in Old Québec (1683), this house was built after the great fire of 1682 by the architect Claude Baillif for Louis Jolliet, who lived here until his death in 1700.

Louis Jolliet was an explorer, cartographer and hydrographer, and proved to be the first Quebec-born Canadian to make history. During one of his expeditions, he discovered and mapped the Mississippi River. The first person of European parentage to accomplish such feat, he taught hydrography at the Séminaire de Québec during the last years of his life.

The fire, which had almost completely razed Basse-Ville, eventually prompted the authorities to require all buildings to be made of stone and equipped with firewalls. Among other things, the decision resulted in the spread of first suburbs outside the city walls, since poorer settlers could not meet the costly new requirements and were forced to move out of town.

Heavily damaged during the British Conquest and a number of fires that happened later on, the house nonetheless has retained some of the features from the original design attributing to the urban architecture of the French Regime. Although transformations have reduced its state of authenticity, the location at the top of rue Sous-le-Fort gives it a privileged position in the urban landscape of the neighbourhood. Access to the funicular from the terrace also adds to its importance.

The building contributes to the specificity of the declared site of Old Quebec as a UNESCO World Heritage Site.
Louis Jolliet House (Maison Louis Jolliet) on Map
Walking Tours in Quebec City, Quebec