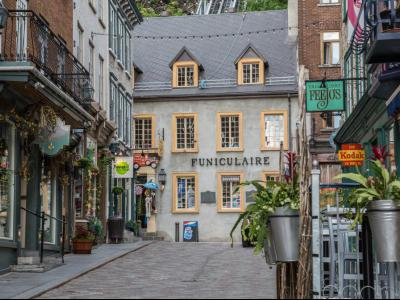 Louis Jolliet House (Maison Louis Jolliet), Quebec City
One of the earliest dwellings in Old Québec (1683), this house was built after the great fire of 1682, which almost completely razed Basse-Ville. It was this tragedy that prompted authorities to require all buildings to be made of stone and equipped with firewalls. Among other things, the decision resulted in the spread of first suburbs outside city walls, since poorer settlers could not meet the costly new requirements and were forced to move out of town.

Now containing the lower platform of the Old Funicular and selling various trinkets, the house is named after Quebec-born explorer Louis Jolliet (1645-1700) who achieved international fame in his lifetime as the first non-Aboriginal person, together with Jacques Marquette, to travel and map the Mississippi River. The first person of European parentage to accomlish such feat, he taught hydrography at the Séminaire de Québec during the last years of his life. A document dating from 1720 also recognizes the fact that "he played the organ and had taught several people from the seminary to play."
Louis Jolliet House (Maison Louis Jolliet) on Map
Walking Tours in Quebec City, Quebec