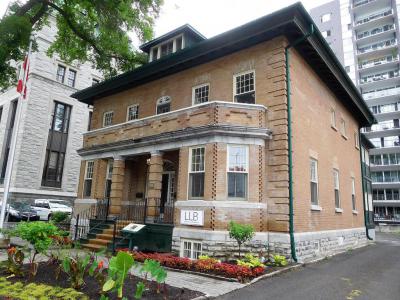 Louis S. St. Laurent Heritage House, Quebec City
This elegant building was the home of Louis S. St. Laurent, Prime Minister of Canada from 1948 to 1957, who lived in it until his death in 1973. After a brilliant career of over 35 years as a lawyer, he was appointed as Minister of Justice in 1941 and elected as Member of Parliament the following year. As Prime Minister, his constitutional expertise, his achievements on the international scene, and his social and economic policies transformed Canada into a modern nation that soon became a full member of the United Nations, NATO and the new Commonwealth.

Due to its historical and architectural importance, as well as the environmentally privileged place it occupies, the house's heritage value was officially recognized in 2001. While the exterior evokes the cubism of early 20th-century "Four Square" houses, the interior plan and finish clearly reflect the former occupants' professional status, including the high-quality woodwork and fireplaces. Further illustrating the lifestyle of high-class families in 1950s Québec City are period furnishings, costumed guides, and several multimedia touches.
Louis S. St. Laurent Heritage House on Map
Walking Tours in Quebec City, Quebec