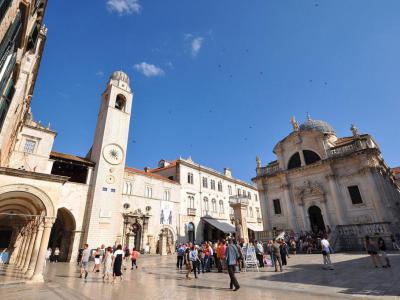 Luža Square, Dubrovnik
Luža Square has been the hub around which life in Dubrovnik has revolved for many centuries.

The buildings surrounding this busy square have stood for hundreds of years and the square itself has been a gathering spot for the locals just as long. Today, this wonderful medieval plaza is a home to cafes, a bell tower, and Orlando's column, and is quite spectacular a place to watch people in the afternoon.

The history of the square also has a serious side. Not only is it where that the Croatian sovereignty was proclaimed, but it also saw numerous trials, pronounced judgments and executions performed. It is rather easy to feel lost in time here amid the Gothic-Renaissance architecture and cobblestone pavement – pretty much as it was back in the 14th century.

Presently, Luža Square is a venue for the opening ceremony of the Dubrovnik Summer Festival, the Feast of St. Blaise and many other events. Being the heart of the city, it continues to be teeming with people just as it was originally designed to do.

Why You Should Visit:
One of the most beautiful old town areas in Europe!

Tip:
Go at night to avoid crowds when the city is particularly lively and buildings floodlit.
Walking Tours in Dubrovnik, Croatia