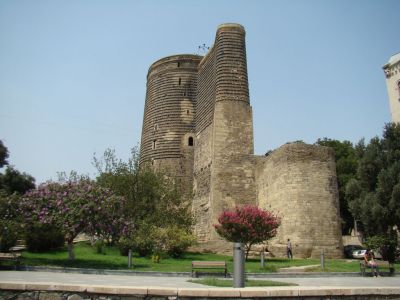 Maiden Tower, Baku
(must see)
Maiden Tower is a tower in the Old City section of Baku. The 97-foot tower was completed in the 12th century. The tower is one of the most distinctive symbols of Azerbaijan and is featured on national emblems, letterheads and currency.

Archaeological and architectural evidence shows that the tower is an example of pre-Islamic architecture. It is believed that the Maiden Tower once had seven fire exits at its top, which would indicate it to be a Zoroastrian fire temple. Zoroastrianism is the ancient religion of Iran.

The foundation of the tower is much older than the tower itself. The underground foundation and the first three stories were built sometime between the 4th and 6th centuries. This also supports the idea that the tower was a Zoroastrian temple.

It is believed that the construction of the tower in the 12th century. It is also thought that the tower was then used as an astronomical observatory.

Maiden Tower was designated as a UNESCO World Heritage Site in 2000. Not long after this designation, an earthquake caused damage to the tower. Conservation efforts went into place to ensure the Maiden Tower remained structurally sound. A restoration plan was completed in 2013 in which the damaged sections were restored and plexiglass barriers were added to the observation deck.

Inside Maiden Tower is a museum that shows the history of Baku. Visitors can go to the observation deck to see a view of the city and Baku Bay. The tower is open daily from 10 AM to 6 PM.
Walking Tours in Baku, Azerbaijan