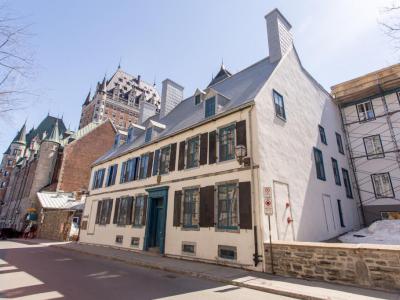 Maillou House (Maison Maillou), Quebec City
Located at 17 Saint-Louis Street in the historic district of Old Québec, this building was built around 1737 by Jean-Baptiste Maillou – one of the French regime's most prominent landowners and masonry contractors. It took on the appearance we know today after an upper storey was added in 1767 and an extension was built in 1799.

In 1815, the residence became the property of the British Army. During this period, it housed the commissariat and treasury, and accommodated senior officers until the troops left in 1871. After that time, the federal government took possession of the building, which notably became the headquarters for the militia and army for almost 60 years. Note the metal shutters used to thwart weather and unfriendly fire.

While access to the site is restricted, the courtyard and the outbuildings, where a restaurant is located, are accessible to the general public. A pamphlet and commemorative plaque provide the houses' history.
Maillou House (Maison Maillou) on Map
Walking Tours in Quebec City, Quebec