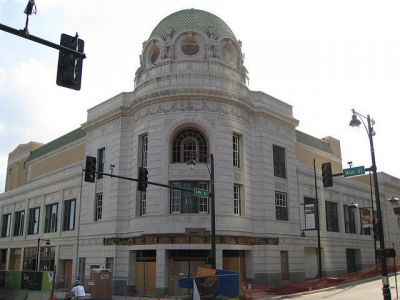 Mainstreet Theater, Kansas City
Sometimes called the Empire Theater, the Mainstreet was built in 1921 and designed by Chicago firm Rapp & Rapp. Vaudeville and movies were popular shows at the 3,200 seat theater for many years; it was the largest theater in town until the Midland Theater opened in 1927. It's designed in Neo-Classical and French Second Empire styles with a French Baroque interior. There was a tunnel connecting it to the nearby Presidential Hotel to allow actors to enter the theater from their dressing rooms, but it eventually became more useful to bootleggers trying to dodge the police during Prohibition. The basement and sub-basements also had spaces to keep animals for vaudeville shows, including a pool for seals and an elevator large enough for elephants.

Durwood Theaters purchased the theater, the forebearer of AMC, in the late 1950s and renamed the Empire. While it became primarily a movie house, the screen was designed to fold down to allow for the occasional live show. The theater was eventually split into two screens, using the balcony area to add the second theater. By the 1980s, it was operating as a four-screen cinema. The building entered a period of decline with an uncertain future, but a group of concerned citizens rallied behind the building to get it added to the National Register of Historic Places.

The city purchased the building in 2004 as part of its Power & Light District revitalization plan. The theater reopened with its original name under AMC's brand again in 2009. AMC sold off the cinema, and it is now known as the Alamo Drafthouse Cinema Mainstreet. The theater is state-of-the-art, with both 35mm film and 4K 3D digital projectors. The lobby bar is The Chesterfield-Mainstreet, and The Chesterfield is attached with seated dining and a craft cocktail menu.
Mainstreet Theater on Map
Walking Tours in Kansas City, Missouri