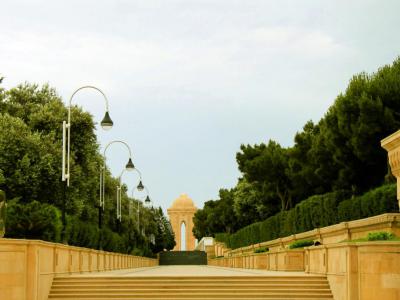 Martyrs' Lane, Baku
Martyrs' Lane is a cemetery located in Dagustu Park. It was established in 1990 for those killed during the Caucuses campaign, March Days, Black January and the First Nagorno-Karabakh War. There are approximately 15,000 interments in the cemetery.

The cemetery was originally the first Muslim cemetery for victims of fighting in Baku during the Russian Civil War. When the Bolsheviks came to power, the cemetery was destroyed and an amusement park was placed on the site. The cemetery was only reinstated after the collapse of the Soviet Union.

The cemetery is home to a memorial to the Turkish soldiers who were killed in combat. The large memorial honors 1,130 Turkish troops killed during the Battle of Baku in 1918. There is also a martyrs mosque that was unveiled in 1999.

The Eternal Flame Memorial Complex was erected in 1998. It is a tomb standing on an eight-pointed star crown inside a gold-framed glass dome.

Martyrs' Lane was previously known as the Kirov Park. It is sometimes referred to as "Alley of Martyrs."
Walking Tours in Baku, Azerbaijan