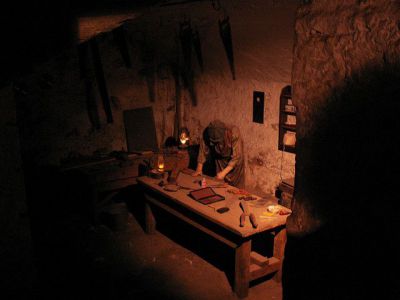 Mary King's Close, Edinburgh
(must see)
If you are a fan of ghost stories and haunted houses, you'll love Real Mary King's Close, which is reputed to be one of the most haunted places in Edinburgh, found deep under the Royal Exchange building.

The close is a series of winding streets and tenement houses that were used as the foundations of the Royal Exchange, many years after they had been closed off during the Great Plague that struck the city in 1645.

The plague, which came from Europe, was carried here by the fleas on the merchant ships' rats and infested the poorer parts of the city, where hygiene was minimal, to say the least. Carried by flea bites, the plague spread and many of the poorer tenement areas were closed off as urgent quarantine measures.

Mary King's Close was one such area and, according to legend, the people left inside the streets and buildings were bricked in and left to die either of the plague or starvation. Their ghosts, and particularly one of a small girl, named Annie, are said to be haunting the place.

The area was uncovered during renovations to the building over it and was opened to the public in 2003 as a tourist attraction. Guides in costume dress will lead you through the underground streets, which have been restored to 17th-century designs, and tell you the history of Mary King, the master seamstress, after whom the close was named, as well as about Annie.

You can leave a toy or make a small donation to the poor little spirit who wanders the streets looking for her favourite doll. All these gifts are, in turn, given to the hospital for sick children and other charities.
Walking Tours in Edinburgh, Scotland
Useful Travel Guides for Planning Your Trip
---