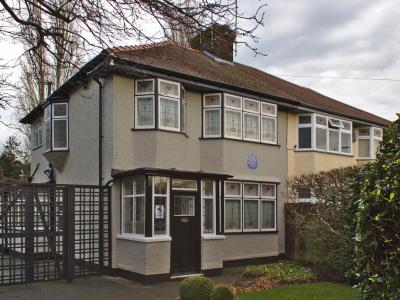 Mendips – John Lennon Home, Liverpool
251 Menlove Avenue, otherwise known as Mendips, was the childhood home of the Beatles star John Lennon. A 1930s semi detached property typical of the Liverpudlian suburbs, it is now preserved by the National Trust and features a blue plaque above the living room window. Lennon lived here with his aunt and uncle, Mimi and George Smith, between the ages of 5 and 22. He arrived here as an only child with an absent father and a troubled mother, and left as the leader of one of the world's most exciting rock-and-roll bands.

Lennon placed great importance of his stable childhood at Mendips during his upbringing. His bedroom was on the first floor with a poster of Elvis Presley on the wall. He used to spend countless hours playing a guitar in his room. Mendips is where he initially composed The Beatles' first UK number one, "Please Please Me."

Lennon's widow, Yoko Ono, bought the house in 2002 and then donated it to the National Trust. It was restored to its 1950s appearance and opened to the public in 2003.

Opening times:
The house opens to public seven days a week in peak season, from June to October. During the off season, it opens from Wednesday to Sunday.
Mendips – John Lennon Home on Map
Walking Tours in Liverpool, England