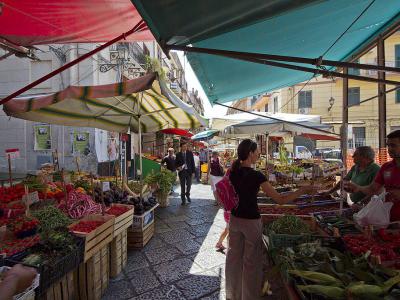 Mercato della Vucciria (Vucciria Market), Palermo
Ok, what does "Vucciria" mean? There are theories. There is the French word "boucherie", butcher shop; yes, sounds like. Then there is a more likely source. The word "vucciria" in Palermo means confusion. In the big open-air market there are cries of the vendors, the "abbonnati" contending with a confusion of voices. It's very like an Arab market.

The market has been in operation one way or another since the 12th century. In 1783 the Viceroy Caracciolo made some changes. First he named the square after himself. Then he caused arcades to be built to house sales counters and he topped it off with a fountain in the middle.

Streets and alleys weave around the Vucciria. Stalls hold boxes full of lemons, fish, olives, tomatoes and other items for the Sicilian cuisine. The air is replete with tempting smells and colors.

Some buildings around the square have been restored recently and some stalls have closed or moved to other markets. The central area has been repaved. However, there are still fish stalls in the market and the fish must be continuously kept wet. When someone speaks of an event that will never happen they say, "When the floor of Vucciria dries up."
Mercato della Vucciria (Vucciria Market) on Map
Walking Tours in Palermo, Italy