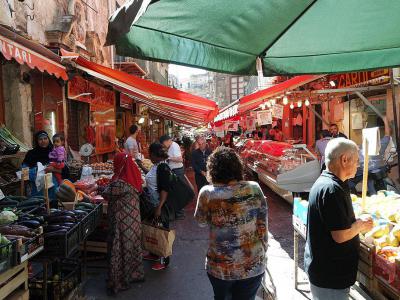 Mercato di Ballarò (Ballarò Market), Palermo
Gaspare Palermo wrote a guide to Palermo in the 1800s. He describes the Piazza Ballaro as "a large square in the Albergheria district, oblong in shape and not very wide, ... paved with large flints." Ballaro is the oldest and largest market of its kind in the city. It reaches from Piazza Casa Professa to Tukory Course.

The market reminds one of an Arab souk in a Muslim town. The colors, smells, the stalls covering streets and squares, awnings, hanging baskets and the persistent calls of "abbanniata!" in the Palermo patois are living monuments to old Palermo. In this market one can buy almost anything but certainly fruit, vegetables, fish and meat.

The market in fact dates back to the era of Arab rule. The name Ballaro may come from the name Bahlara, a village near Monreale, a town south of Palermo. Or it may from Ag-Vallaraja, a region of India known for its spices. Or it might come from "Segeballarath", which means, simply, "fair market."

Ballaro has existed for centuries by the Church of the Carmelite Fathers. It is above all a "Piazza di Grascia", a place for food.
Mercato di Ballarò (Ballarò Market) on Map
Walking Tours in Palermo, Italy