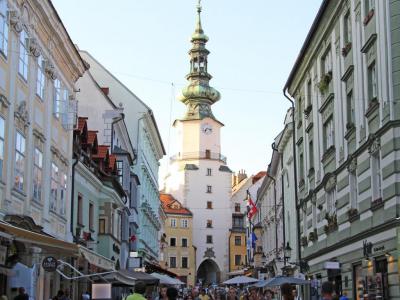 Michael's Tower and Street, Bratislava
(must see)
The only surviving gate from the city's medieval walls lies at the end of Michael's Street. Michael's Gate (Michalska Brana) was built around 1300 and once stood with three others leading into town. It is one of the oldest buildings in town.

The tower's baroque exterior is a result of reconstruction works carried out in the 1750s. The statue of St. Michael and the Dragon was placed at the top during this time.

The gate got its name as the Church of St. Michael stood just outside the city walls here.

At one point, the city was surrounded by medieval fortifications. Entrance to town was only possible through the four gates, all of which were guarded and fortified. The other gates, now demolished, were the Laurens Gate, Fisherman's Gate on the river Danube, and Vydrica Gate.

At its height, the gate was part of a much larger system of fortifications. They included two rings of city walls, two bastions, a barbican, and a bridge over a moat. The barbican is still present and today has been built into houses. The original bridge over the moat was replaced by a stone one in 1727. Some of the moat is also still visible.

The view from the top of the seven-floor, 51-meter tall tower is spectacular. There is no better place from which to view the old town of Bratislava. To get in the tower, enter through the Museum of Arms. The museum contains excellent exhibits about the fortifications and the history of the city.

The street leading from the Michael's Gate, Michael's Street, is lined with shops and attractions. In addition to the Arms Museum, you'll also find the Pharmacy Museum nearby in a very old shop building. There are also bars, cafes, and restaurants lining the street.
Michael's Tower and Street on Map
Walking Tours in Bratislava, Slovakia