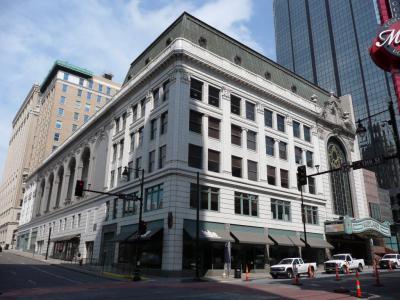 Midland Theatre, Kansas City
Today the Midland is Kansas City's premier concert venue, currently known as the Arvest Bank Theatre at the Midland. The 3,200-seat theater is in the Power & Light District and was completed in 1927 and is designed in French and Italian Baroque style. The outside of the theater's facades is ornamented with arches, urns, swags, leaves and flowers, and winged figures. There are over 500,000 feet of gold leaf throughout the building, and five giant hand-cut crystal chandeliers hang from the ceilings. Over the years, the building was used by AMC as a movie theater and for various concerts, stage shows, and ballets.

In 2008, the building went through a significant renovation. The floor plan is now open to allow for standing-room-only events or cabaret-style tables. The office portion of the building now houses lounges and bars. All renovations were done to meet preservation standards, and even the exterior marquee has been restored to look as it did in 1927. The theater has been listed on the National Register of Historic Places since 1977.
Walking Tours in Kansas City, Missouri