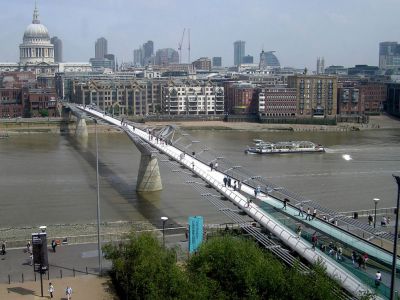 Millennium Bridge, London
The Millennium Bridge boasts three noteworthy distinctions: it stands as the Thames River's newest crossing, serves as London's exclusive pedestrian-only bridge, and has earned a place in history for having the shortest duration of operation before closure, shutting just two days after its grand inauguration.

The bridge was conceptualized to coincide with the year 2000, symbolizing the dawn of the 21st century. In 1996, Southwark Council conducted a competition, inviting architects from around the globe to devise a new structure that would embody the spirit of the new era. The winning designs, submitted by Foster & Partners and Ove Arup & Partners, marked the commencement of construction in 1998.

This strikingly contemporary suspension bridge spans a length of 325 meters and is supported by eight suspension cables intentionally positioned low to preserve unobstructed views of Saint Paul's Cathedral and Tate Modern. These cables are precisely tensioned to exert a formidable 2000-ton force against the sturdy piers rooted on each bank.

The bridge was formally inaugurated by Queen Elizabeth II and originally opened its gates in 2000. However, an unforeseen oscillation, brought about by the immense pedestrian throng (comprising 90,000 individuals) on its opening days, earned it the 'Wobbly Bridge' moniker. This issue was rectified by retrofitting 37 fluid-viscous dampers, designed to dissipate energy and control horizontal movement, as well as installing 52 tuned mass dampers to regulate vertical movement. Consequently, the bridge was reinstated in 2002 and has since remained free from significant vibrational disturbances.

***HARRY POTTER MOVIE***
It might have been this bridge's association with instability that led the filmmakers to depict it as a target of Death Eaters in the film adaptation of "Harry Potter and the Half-Blood Prince", deviating from the book where the Brockdale Bridge suffers a similar fate. Thankfully, despite its dramatic destruction in the harrowing opening scene of the film, where it snaps and crumbles as Death Eaters wreak havoc across London, the now iconic Millennium Bridge was not harmed during filming and you can safely walk on it today.

Why You Should Visit:
An excellent connection between the Tate Modern and Globe Theatre on one side and Saint Paul's Cathedral on the other, making it highly convenient for those exploring both riverbanks. This pedestrian-only bridge offers a delightful walking experience, with the cathedral serving as a picturesque backdrop.

Tip:
Wear comfortable shoes. Take an umbrella or a rain-proof jacket, just in case.
Also, note the paintings or stickers that are on the floor of the bridge.
Walking Tours in London, England
Useful Travel Guides for Planning Your Trip
--- London Souvenirs: 20 Distinctively British Products for Travelers
Most visitors to London consider shopping as part of their must-do London experience. From street markets to Victorian arcades to snobbish Sloane Square to busy Oxford Street, there are a host of shops selling items which typically represent this vibrant city. Whether you are shopping for souvenirs...