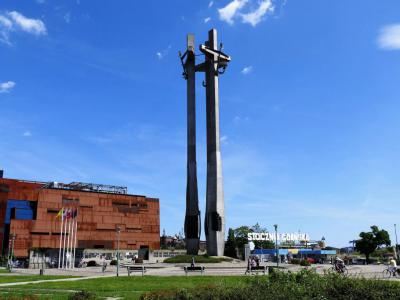 Monument to the Fallen Shipyard Workers, Gdansk
Solidarity Square in Gdansk is dominated by the 42-metre Monument to the Fallen Shipyard Workers 1970. Symbolically, this Monument (Pomnik Poległych Stoczniowców 1970) commemorates the 42 (or more) people killed during the so-called Coastal Cities' events that took place in December 1970. The protests, sparked by a sudden hike in prices of food and other everyday items, were brutally put down by the Polish People's Army and Citizen's Militia, resulting in more than 40 people dead and over 1,000 wounded.

The Monument was unveiled on 16 December 1980 near the entrance to what was then the Lenin Shipyard in Gdańsk. It was created in the aftermath of the Gdańsk Agreement and is the first monument to the victims of communist oppression to be erected in a communist country. Its implementation became possible only after of the Agreement was signed. During the strikes, funds for its construction were collected from both the strikers and local residents; donors from other parts of the country also contributed.

The authorities tried to postpone the monument's construction, as well as to change its name so that it would also pay tribute to the fallen policemen. The latter idea was met with fierce opposition, seen as an attempt to manipulate the historical truth and to blur the responsibility for the massacre. The Monument Committee acted courageously to obtain final approval for the location and construction start date, fighting against the false pretexts used by the authorities to prevent the project. The unveiling ceremony, marking the tenth anniversary of the 1970 events, was accompanied by the premiere of Krzysztof Penderecki's Lacrimosa, commissioned specially for the occasion by Lech Wałęsa.

The monument consists of three crosses, each weighing 36 tons and measuring 42 meters in height. Suspended from each cross is an anchor weighing about two tons. In the lower part of the monument there are reliefs depicting scenes from the life of the shipyard workers. The monument carries a quotation from Psalm 29, as well as a fragment of the poem Who You Wronged by Czesław Miłosz.

To date, this monument is one of the most important memorial places in Gdansk where high-ranking international politicians, royalty, as well as the pope John Paul II have paid their tribute to the victims.
Sight description based on Wikipedia.
Monument to the Fallen Shipyard Workers on Map
Walking Tours in Gdansk, Poland