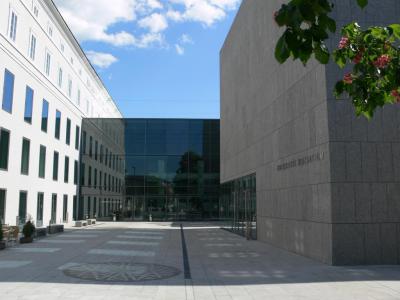 Mozarteum University / Magic Flute House, Salzburg
Along with the International Mozarteum Foundation and the Mozarteum Orchestra Salzburg, the Mozarteum University is a separate entity under the "Mozarteum" moniker, with "Mozart is our inspiration, music our tradition, art our passion" as a motto. If you happen to be in Salzburg in July and August when the Mozarteum organizes events in the adjacent Grand Hall (or Großer Saal), you might be able to visit the so-called "Magic Flute House" (or "Zauberflötenhäuschen"), the little summerhouse where Mozart was allegedly locked in by his librettist, Emanuel Schikaneder, to ensure that he would finish the now-famous composition on time. Transported to Salzburg from its original location in Vienna, the house was much visited by the faithful, who would snatch shingles off its roof. It had to be restored several times, especially after the Second World War, when the structure suffered a considerable amount of damage during the bombing of the city.

Tip:
Attend a concert in the Stiftung Mozarteum if you can – you won't be disappointed.
Mozarteum University / Magic Flute House on Map
Walking Tours in Salzburg, Austria