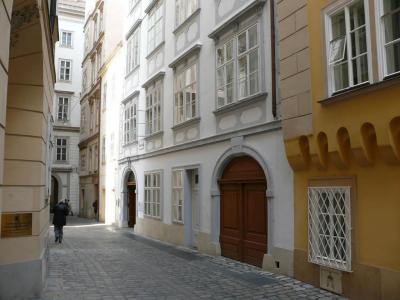 Mozarthaus (Mozart's Former Residence), Vienna
Out of total 11 of Mozart's abodes in Vienna, Mozarthaus at Domgasse 5 is the only one that still exists – restored in 2006 to commemorate his 250th anniversary – and is where the composer reportedly spent his happiest years. Perhaps this explains the significant number of compositions Mozart created while here, including the exquisite Haydn-dedicated quartets, a handful of piano concertos and "The Marriage of Figaro" and "Don Giovanni" operas. From this point on it was all downhill for Mozart, who then moved to the suburbs due to financial difficulties.

Unlike some other famous house-museums in Vienna, this one has none of the original furnishings to see; instead, it focuses on the composer's genius and allows visitors to imagine how the spacious, elegant apartment might have looked. Concerts are regularly staged here, along with some activities for children.

It might be a good idea to take the lift to the 3rd floor and start your way from there downward, exploring Mozart's life as a child prodigy touring all across 18th-century Europe until finally moving from Salzburg to Vienna. His vices – namely: womanizing, gambling and ability to waste excessive amounts of money – lend a spicy edge. The 2nd floor deals with different versions of his operatic works (some played in sync), while the 1st floor focuses on the years that Mozart lived at this exact address.

Why You Should Visit:
To explore the life and work of the musical genius in a unique setting in the heart of Vienna. Nowhere else did Mozart compose more music. Visitors can see not only the historical apartment but also an extensive presentation of major works by Mozart and of the times in which he lived.

Tip:
Save on the entrance fee by combining your ticket with either Haus der Musik or Dom Museum Wien.

Opening Hours:
Daily: 10am–7pm; last admission: 6:30pm
Mozarthaus (Mozart's Former Residence) on Map
Walking Tours in Vienna, Austria
Useful Travel Guides for Planning Your Trip
--- Top 16 Austrian Things to Buy in Vienna
Vienna stool, Viennese schnitzel, Viennese waltz, Vienna sausage, Viennese apple strudel... There's so much Vienna to it, that you might think you've heard it all. Luckily, chances are that you haven't and there's much more in store left to be discovered about this fascinating... 7 Ultimately Austrian Foods to Taste in Vienna
Once the center of the vast Hapsburg Empire, stretched from France in the West to Russia in the East, Austria has embraced many ethnic influences in its cuisine over the course of centuries. Many of the country's distinctive dishes reflect its multinational heritage. Coffee culture, for...