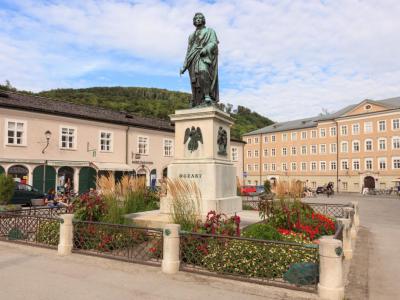 Mozartplatz (Mozart Square), Salzburg
(must see)
The great composer, Wolfgang Amadeus Mozart, spent most of his first 25 years (1756-81) in Salzburg; in fact, he was born just a few blocks from this square (so having it named for someone else would have been rather scandalous!). He and his father both served Salzburg's rulers before Wolfgang grew restless and went on to seek a better position in Vienna.

Constructed at a time when the city was economically depressed because of the Napoleonic Wars, the statue was unveiled in 1842, just after the 50th anniversary of Mozart's death, in the presence of the composer's two surviving sons. It was the first sign of public recognition the great composer had received from his hometown since his untimely passing. The music festival held that year sowed the seed for what would become the now world-renowned annual Salzburg Festival.

Tip:
Aside from the many small shops/restaurants and several cafés nearby, you will also find the Salzburg Museum, while those looking to buy tacky souvenirs should check out the Zum Mozart located at the other corner of the square.
Mozartplatz (Mozart Square) on Map
Walking Tours in Salzburg, Austria