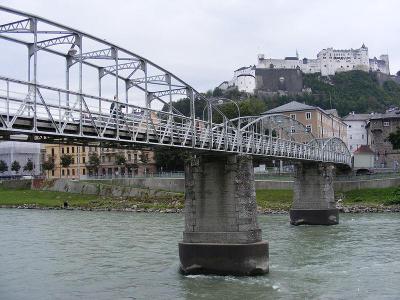 Mozartsteg (Mozart Bridge), Salzburg
The famous Mozartsteg is a filigree Art Nouveau footbridge over the Salzach River linking the Old Town and Stone Lane (Steingasse). Built in 1903, it was the result of efforts by a wealthy local businessman who lobbied and donated the funds for construction in order to increase customer traffic to his café. Today, the picturesque Mozartsteg is a spot for photographs by tourists and part of the tours that take visitors around locations where The Sound of Music was filmed.

Take in the charming, historic core of Salzburg's Old Town while the milky-green Salzach thunders under your feet. Although the river has not salty but fresh water, its name comes from the precious cargo it once carried. The major salt mines of Hallein are just 12 miles (~20 km) upstream. For two millenia, hundreds of barges carried salt from here to the wider world: the Danube, the Black Sea, and on to the Mediterranean. As barges passed through, they had to pay a toll on their "white gold". The city was made great from the trading of salt (Salz) defended by a castle (Burg)—"Salz-burg."

***SOUND OF MUSIC TOUR***
In the film, it is across this bridge and along the grassy riverbank nearby that Maria and the kids cheerfully skip while pointing at the sights during the instrumental ending of the song "My Favorite Things".
Mozartsteg (Mozart Bridge) on Map
Walking Tours in Salzburg, Austria