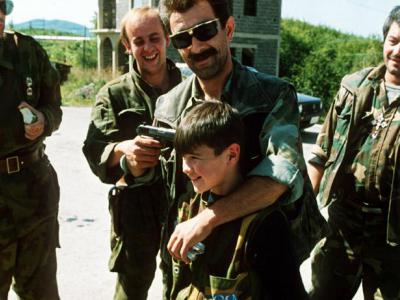 Museum of Crimes Against Humanity and Genocide, Sarajevo
The Museum of Crimes Against Humanity and Genocide is a museum that showcases war crimes committed during the war in Bosnia that lasted from 1992 to 1995. The museum opened in 2016 as an initiative to sustain the memory of all the victims of the war. The founders of the museum themselves are victims who survived the war.

The museum began as a collection of photos, but many artifacts have been added to the museum since it was founded. Some of these artifacts include personal items of the victims, instruments of torture, a mock-up minefield, a reconstructed torture cell, and a replica of a mass grave.

The museum is divided into themes. Some of these include concentration camps in Bosnia and Herzegovina, the mass killings at Srebrenica, torture, and children as victims of war.

Visitors to the museum can see works of art, including the sculpture of a man, made from bread. The sculpture symbolizes those individuals killed while waiting in line for food. Three films provide educational material to museum patrons. They cover sexual violence, the Siege of Sarajevo, and first-hand accounts of war crimes.

The museum is open daily from 9 AM to 9 PM.
Museum of Crimes Against Humanity and Genocide on Map
Walking Tours in Sarajevo, Bosnia-Herzegovina