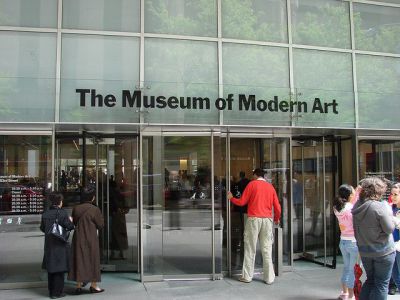 Museum of Modern Art (MoMA), New York
Undaunted by the Wall Street Crash of 1929, the socialite and philanthropist Abby Rockefeller and two of her friends, art collectors Lillie Bliss, and Mary Quinn Sullivan opened their new museum at the Heckscher Building at 750 Fifth Avenue in Manhattan. It opened to the public on November 7, 1929. The venture was the primary museum in America dedicated solely to Modern Art and European Modernism. In the next ten years, the MoMA relocated three times.

Since 1939 the museum has made its home on 53rd Street in Manhattan, between Fifth and Sixth Avenues. The museum has played a vital role in collecting and promoting Modern Art. It is reputed to be one of the most important museums of modern art in the world.

The collection holds contemporary art, such as works of architecture, design, painting, sculpture, prints, art journals, photos, films, and electronic media. MoMA has a library with more than 300,000 books and catalogs of exhibitions. There are over 1,000 periodicals and 40,000 items of ephemera relating to artists and their associations.

The museum is made up of six Custodial Departments: Architecture and Design, Drawings and Prints, Film, Media and Performance, Painting and Sculpture, and Photography. Museum holdings involve more than 150,000 separate pieces plus 22,000 films, and over 13,000 artists are represented.

Painting Collection highlights include works by Rodin, Matisse, Picasso, Braque, Miro, Mondrian, Duchamp, Klee, Magritte, O'Keeffe, Hopper, Gorky, Giacometti, de Kooning, Pollock, Rothko, Rauschenberg, Stella, Warhol, and Lichtenstein, to mention a few.

MoMA is housed in a sleek modernist building on 53rd Street. Straight ahead, through the expansive lobby is the open Sculpture Garden with trees, sculptures, and reflecting pools. Staircases and elevators lead to the exhibition halls above. There are several cafeterias. A motion picture theatre has showings on most days.

The museum is open every day. There is an admission charge but admission is free on Fridays after 5:30 pm.
Museum of Modern Art (MoMA) on Map
Walking Tours in New York, New York
Useful Travel Guides for Planning Your Trip
---