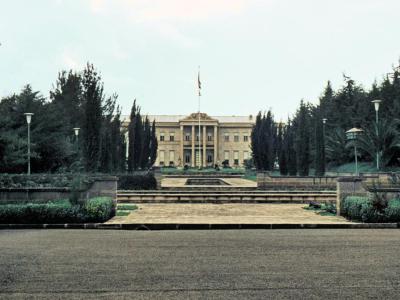 National Palace, Addis Ababa
A beautiful palace in the center of the city, the National Palace of Ethiopia, was built in 1955 to mark emperor Haile Selassie's Silver Jubilee and was called the Jubilee Palace. The palace was expanded and doubled in size between 1966 and 1967. The Jubilee Palace was the site of the dethronement of Emperor Haile Selassie in September 1974. The Derg renamed the Palace the "National Palace", which it still bears today. With the fall of the Derg, and the proclamation of the Federal Republic, the Jubilee Palace became the official residence of the President of the Federal Republic of Ethiopia. Around the palace there is a beautiful park. The inside design of the palace was made by an Italian designer. The Ethiopian Government announced its intention to build a new official presidential residence. The National Palace will then be opened as a museum. It will continue to house the President of the Republic until that time.
Sight description based on Wikipedia.
Walking Tours in Addis Ababa, Ethiopia