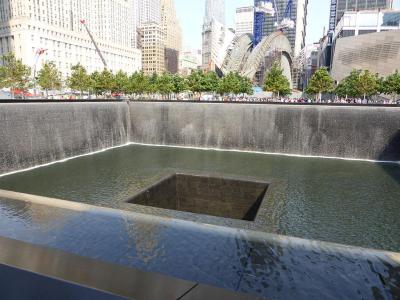 National September 11 Memorial & Museum, New York
(must see)
September 11, 2001, Tuesday morning, 7 am. Flights were bound from New York to points west. By 8:45 am an American Airlines Boeing 767 slammed into the north tower of the World Trade Center. Less than 20 minutes later, another 767 hit the south tower. The Twin Towers collapsed in flames and 2,977 people died. This day would never be forgotten.

The National September 11 Memorial & Museum is a memorial and museum in New York City commemorating the September 11, 2001, and the 1993 World Trade Center bombing attacks. By November 2003, the memorial design project had been awarded to architect Michael Arad and landscape architect Peter Walker. Their memorial is called "Reflecting Absence." It is a forest of white oak trees surrounding two recessed pools formed by the footprints of the Twin Towers.

The park is level with the street. The names of victims who died from the attacks, including the 1993 bombing, are inscribed on parapets around the waterfalls. The waterfalls are intended to mute outside noises and create a meditative atmosphere at the site.

A callery pear tree that survived, called the "Survivor Tree," was replanted at the World Trade Center. It is thriving. Six other "survivor" pear trees and linden trees have been planted at other sites.

The "Memorial Glade" is a path that follows a temporary ramp used by first responders. It has six enormous stones that jut up through the ground as if violently pushed. The stones simply "strength and resistance."

The September 11 Museum at the site opened in May 2014. It has a collection of over 40,000 images, 14,000 artifacts, and about 3,500 recordings, including 500 hours of videos. There are steel items from the towers, such as the "Last Column." The museum is designed by the architectural firm Davis Brody Bond. It is 70 feet underground, accessible through a pavilion.

The pavilion follows a deconstructivist design, resembling collapsed buildings. Two "tridents" from the towers are inside. One of the museum walls is the old "slurry" wall holding back the Hudson River. The bodies of 1,115 victims were moved to a bedrock crypt space as part of the museum.
National September 11 Memorial & Museum on Map
Walking Tours in New York, New York
Useful Travel Guides for Planning Your Trip
---