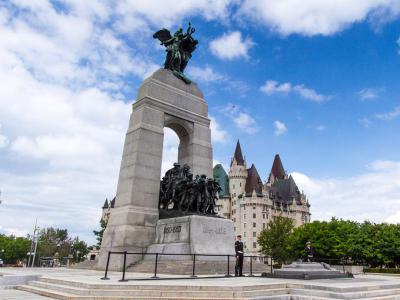 National War Memorial, Ottawa
The National War Memorial in Ottawa stands tall as a granite memorial arch adorned with bronze sculptures. Initially dedicated by King George VI in 1939, its purpose was to honor the Canadians who lost their lives in the First World War. However, over time, it came to represent all those who have perished in past and future conflicts. In 2000, the Tomb of the Unknown Soldier was added to the front of the memorial, serving as a symbol of the sacrifices made by Canadians who have died or may still die in service to their country.

The National War Memorial holds a significant place in Confederation Square, the focal point of Canada's capital city. Situated between various important structures and attractions, it is bordered by Parliament Hill to the northwest, the Rideau Canal to the northeast, and the National Arts Centre to the east. Numerous buildings can be found west of the square, including the Bell Block, the Central Chambers building, the Office of the Prime Minister and Privy Council, and the Scottish Ontario Chambers building.

Whenever a member of the monarchy or the Royal Family visits Ottawa, regardless of the date, they participate in a wreath-laying ceremony at the monument. Foreign dignitaries visiting the city also sometimes pay their respects by laying wreaths at the memorial. Notable figures who have done so in the past include US President John F. Kennedy in 1961, Soviet Union leader Mikhail Gorbachev in 1990, US Secretary of State John Kerry, and French President François Hollande in 2014.
National War Memorial on Map
Walking Tours in Ottawa, Canada