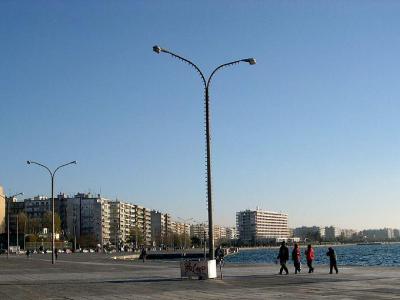 Nea Paralia (New Watefront), Thessaloniki
Nea Paralia (New Waterfront) is a seaside park in Thessaloniki, and is one of Greece's most beautiful new public spaces. Since opening in 2013, this revitalized waterfront area has been a local landmark attracting numerous visitors and international accolades. The venue constitutes one of the biggest regeneration projects ever carried out in the city, covering 50,800 m² with 1,100 trees, expanses of greenery and water.

This architectural feat by Prodromos Nikiforidis and Bernard Cuomo, renowned as one of the best promenades, perfectly combines natural elements and attractive design, and has taken more than a decade to complete. The three-kilometer retreat features 12 themed gardens, including those of Water, Music, Roses, Sound, Memory and others.

Punctuated by sculptures, beautiful fountains and marble benches, the boardwalk throngs with regular joggers, fishers, cyclists, and those busking or just gazing out to sea. Facilities such as cycling paths, sports grounds, children's play areas, refreshment outlets and an amphitheater, contribute to an attractive atmosphere. Additional feature for kids is a small train. Thanks to the abundance of restaurants and bars on the site, the New Waterfront is just as attractive at night as it is during the day.

The park also regularly hosts various public events during the year, including musical concerts, art fairs, and the annual Book Festival.

On a clear day, you can see as far as Mount Olympus from here. For extra fun, you may hire a ThessBike bicycle (1 euro per hour) or take a free harbor cruise on one of the floating bars moored by the White Tower.
Nea Paralia (New Watefront) on Map
Walking Tours in Thessaloniki, Greece