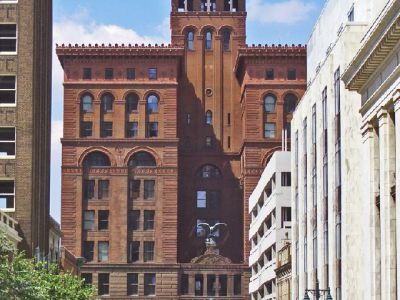 New York Life Building, Kansas City
Built in 1890, the New York Life Building was Kansas City's first skyscraper. The building is identical to one that New York Life built around the same time in Omaha. It's built in the Renaissance Revival style and was designed by Frederick Elmer Hill of New York, who also designed the local Grace and Holy Trinity Cathedral and Convention Hall.

At first glance, the brick and brownstone building isn't as striking as some of the other Art Deco buildings in Kansas City, but it's finishing touches are superb. A statue of a nesting bald eagle, complete with eaglets, is mounted above the main entrance. It contains more than two tons of bronze and was made by sculpture Louis St. Gaudens. When the building was completed, it completely changed the skyline of Kansas City and beckoned the start of the skyscraper era.

The building was renovated in 1996. Since 2010, the building has been home to the Roman Catholic Diocese of Kansas City-Saint Joseph and is known as Catholic Center.
New York Life Building on Map
Walking Tours in Kansas City, Missouri