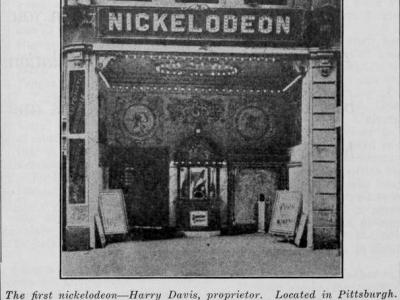 Nickelodeon (America's First Commercial Movie Theater), Pittsburgh
(must see)
The very first moving picture theater in the United States, called Nickelodeon, opened on June 19, 1905 in a small storefront on Smithfield Street in Pittsburgh. Developed by John Harris and Harry Davis, the venue had 96 seats and only charged five cents, or one nickel, per show that lasted 15 minutes. The name Nickelodeon is a combination of two words: "nickel" (the cost of admission) and "odeon" (the Greek word for "theatre").

Prior to that, moving pictures had been projected on store fronts, in warehouses and other locations throughout the world, but Harris and Davis's Nickelodeon was the first structure fully designated to this purpose.

The new entertainment facility proved to be a hit and attracted 450 customers on day one, followed by another 1,500 the next day. The entrepreneurs soon expanded the theater to 200 seats, seeing around 7,000 people visiting every day between 8 am and midnight at its peak. In fact, the theater was so successful that soon nickelodeons sprang up all over the country, reaching over 8,000 nationwide by 1908.

Back in early 1900s, Pittsburgh was the epicenter of the film world. Ironically the first Nickelodeon was short-lived due to its own success. It was demolished only five years after the original opening in favor of the newer, larger, purpose-built cinema that could accommodate bigger audiences for longer feature films. Even though the first Nickelodeon no longer exists, its impact can still be felt by moviegoers. It was this genius invention by John Harris and Harry Davis that led to the creation of the motion picture theatre industry that we know today.

To commemorate the historic event on June 19, 1905, a plaque in honor of the first Nickelodeon theater has been placed at its former location on Smithfield Street. "This was the beginning of the motion picture theater industry", it says.

Why You Should Visit
If you are regular moviegoer, a visit to the birthplace of commercial movie theater in the world is a most-do in Pittsburgh.
Nickelodeon (America's First Commercial Movie Theater) on Map
Walking Tours in Pittsburgh, Pennsylvania