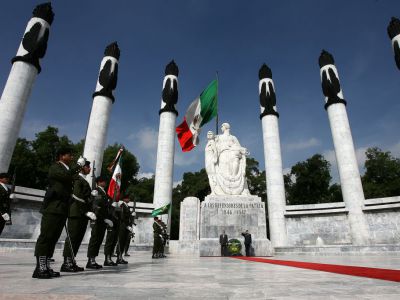 Ninos Heroes Monument, Mexico City
Standing proudly at the entrance of Chapultepec Park is a grand monument that pays tribute to six courageous Mexican teenage military cadets. These valiant young souls lost their lives defending Mexico when the Chapultepec castle in Mexico City came under siege by the US army.

Fashioned from elegant Carrara marble, the Niños Héroes Memorial was a creation envisioned by architect Enriquez Aragon and skillfully brought to life by sculptor Ernesto Tamariz in 1952. This structure serves as a poignant reminder of the young heroes it honors, all of whom were military cadets between the tender ages of 13 and 19.

Among these gallant cadets was Juan Escutia, who, in an act of unwavering patriotism, wrapped himself in the Mexican flag and made a daring leap to his death, ensuring it would never fall into enemy hands. The profound sacrifice of these noble young souls earned them a resting place within the grounds of Chapultepec Park. And in 1952, their remains were laid to rest within the monument, ensuring that the memory of their unwavering courage would endure through the ages.

As you approach the monument, you'll be greeted by a striking sculpture portraying a mother cradling her dying son in her arms, symbolizing the profound loss and sacrifice of these young cadets. Six pillars encircle the sculpture in a graceful semicircle, each representing one of the six brave souls. Crowned with bronze torches, these pillars stand tall, illuminating the everlasting bravery that resides within the hearts of these courageous young men.
Ninos Heroes Monument on Map
Walking Tours in Mexico City, Mexico
Useful Travel Guides for Planning Your Trip
--- Souvenir Shopping Guide: 17 Must-Buy Local Products from Mexico City
Both historic and modern day Mexico's are worth each other in terms of cultural and artistic heritage. The country's capital Mexico City is a showroom of what the label "Made in Mexico" stands for in its entirety. Whether it's authentic food, drink or piece of craftsmanship... 10 Must-Try Mexican Foods in Mexico City
While Mexico is a treasure trove in terms of cultural and artistic heritage (ancient history, architecture, etc.), the vast majority of visitors to the country are lured mainly by, let's face it, bodily pleasures. The latter are manifested in the form of sandy beaches, sun and, most...