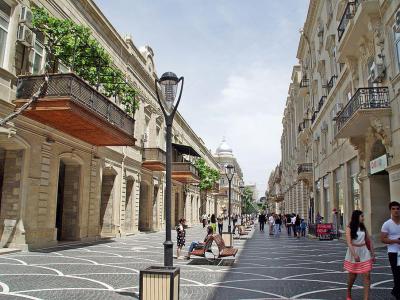 Nizami Street, Baku
Nizami Street is a major street in downtown Baku. The street was first formed in 1864 to create a thoroughfare from the mountains to the railroad bed. Today, it is mostly known to visitors for the small pedestrian-only stretch that runs from Fountains Square to Rashid Behbudov Street.

The street, named after Azerbaijani poet Nizami Ganjavi, is known as one of the most expensive streets in the Southeast Europe. It is home to numerous banks and embassies. It is also the location of a wide number of shops and boutiques.

The architecture of the street is varied as the town has grown and changed. Many of the buildings were erected in the late 19th century though modern and mid-century architecture is also peppered throughout Nizami Street. Most architecture on the street can be classified as Neo-Renaissance, Neo-Gothic, Neoclassicism, Neo-Moorish and Baroque.

Historical landmarks along Nizami Street include the Central Universal Magazine building, the Central Library, St. Gregory the Illuminator's Church, the Azerbaijan State Theater of Young Spectators and many others.
Walking Tours in Baku, Azerbaijan