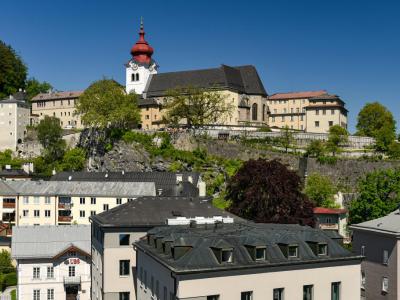 Nonnberg Convent, Salzburg
Nonberg Convent (Stift Nonnberg) is probably the most famous of all The Sound of Music sites in Salzburg. Founded by Saint Erentrudis, the niece of Saint Rupert (Bishop of Worms) in 712-715, this historic Benedictine Convent is the oldest continuously existing abbey in the German-speaking world. Perched high over the east side of Salzburg, it made an excellent location for many powerful scenes in the famous musical.

The complex that makes up the convent includes the Maria Himmelfahrt church, the cloisters, a pillar hall, the abbey, the kitchen court, the dining hall, the St. John's Chapel, the Pieta Chapel, and other small buildings. With impressive Gothic-type architecture, beautifully maintained headstones, and a very tranquil ambiance, it is a marvelous sight to see.

***SOUND OF MUSIC TOUR***
It was here that the real-life Maria (Maria Augusta Kutschera), aged 19, came to live in 1924, stayed for two years as a nun apprentice, became a tutor for one of the widowed Captain Von Trapp's sick children, and then married him on November 26th, 1927, 11 years before the Nazis took over the city. At the time of her marriage, Maria was 22 and Georg – 47.

The scene of their wedding was filmed at Collegiate Church in Mondsee, Austria, while the majority of the indoor scenes – as well as that with the nuns singing "Maria" in the convent courtyard – were shot in a California studio. Filming inside the courtyard was not allowed, so they had to do it at a re-created set in Hollywood and a small studio in Salzburg. Still, there were four iconic scenes shot on the actual grounds, near the gate, including those in which Maria leaves the abbey wondering "What will this day be like?". The nuns talk about Maria, the children come to visit, and the Nazis go on the hunt for the Von Trapps after their escape, upon which the nuns disable their car.

At the time of the filming, there were 50 nuns residing in the convent; now there are only 14 left (as at 2017). Each morning at 6:45am the resident nuns gather to sing Gregorian chants in Latin which is a real treat.

Why You Should Visit:
If you want to get off the beaten path and see a church that seems unaffected by the passing of time, this is a great stop!

Tip:
For some of the finest Romanesque and Gothic artwork in Austria and Europe, go to the Convent's museum ("Stiftsmuseum"). Make sure you also have some 50-cent coins to light up the area at the back of the church and see Roman frescoes (painted around 1140) or the baroque altar and side altars (dating back to 1515).
Walking Tours in Salzburg, Austria