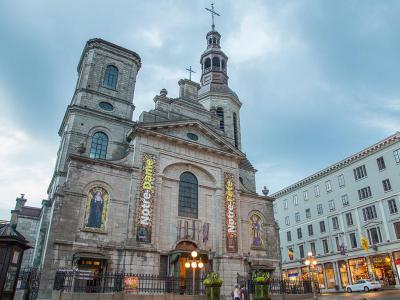 Notre-Dame de Québec, Quebec City
(must see)
The Cathedral-Basilica of Our Lady of Quebec City (Notre-Dame de Québec) is the oldest church in Canada. It sits on the site of the former chapel of Our Lady of Recovery (Notre Dame de la Recouvrance), which was built by Samuel de Champlain in 1633.

This is also the first church in Canada to be ranked as a minor basilica – by Pope Pius IX, in 1874.

Over the years, the cathedral has been destroyed twice by fires: the first time during the Siege of Quebec, in 1759; and then in 1922, gutted by arson by the members of the Canadian faction of the Ku Klux Klan.

The church was designated a National Historic Site of Canada in 1989. Inside, you will find a chancel lamp donated by Louis XIV and impressive adornments such as stained glass windows, paintings of the Virgin Mary dating back to the French colonial regime, the old bishop's throne, and a stunning gold-plated baldaquin canopy suspended above the altar.

From 1654 to 1898, some 900 people were buried in the church crypt; among them four governors of New France and twenty bishops of Quebec, including François de Laval, Quebec's first bishop. It is also rumored that Samuel de Champlain himself is buried somewhere nearby; archaeologists have been searching for his grave for decades.

In 2014, when the cathedral celebrated its 350th anniversary, a holy door – a special entrance portal traditionally located within the Papal major basilicas in Rome – was installed here, being the only one of its kind in North America and one of eight across the entire world.

Tip:
See the basilica during the day, but consider the laser light show in the evening. The line to get in is very long, so buy your tickets online and pick them up at the office the night of the performance. Not the cheapest 30 minutes, but well worth it if you want to see the magnificent building shine in a whole new way.
Entry is free for self-guided visits; it is also possible to visit the crypt on a guided tour, for a charge.

Opening Hours:
Mon-Fri: 7 am–4 pm; Sat: 7 am–6 pm; Sun: 8 am–5 pm (winter);
Mon-Sat: 7 am–7 pm; Sun: 8 am–7 pm (summer).
Notre-Dame de Québec on Map
Walking Tours in Quebec City, Quebec