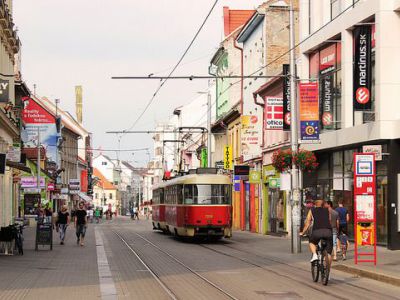 Obchodna Street, Bratislava
Only a five-minute walk from the pretty Old Town, Obchodná Street is the complete opposite of the latter. The main shopping artery of Bratislava and one of its busiest thoroughfares, it stretches for about 1 km from St Michael's Tower in the north to Kollárovo Square in the south, intersecting en route with another popular, pedestrian zone, called Post Street. Also stemming from it is the cute sidestreet, named Vysoka, with a number of lovely restaurants.

Initially, back in the 18th century, the street was known as Schöndorfs, after the Schöndorf suburb that used to be located nearby and had a number of vineyards. Many of the oldest local buildings still date from that period. The area grew popular after WWI, when a large number of merchants and craftsmen came here to set up their businesses. During the Communist era, Obchodna emerged as the booming commercial center.

Nowadays, buzzing with shoppers during the day, although most shops here are not of the classiest kind, Obchodna also offers vibrant nightlife, albeit with a somewhat teenage focus. In the evening, it is routinely flooded with people seeking to have a drink or two at one of the numerous local pubs, bars and restaurants. The abundance of watering holes has given this street a bit of a reputation as boisterous.

Still, taking a stroll here is a must for every shopaholic or people-watcher. Grubby but energetic, dotted with ethnic shops and restaurants, it is most definitely well worth a visit, if you're in the area.
Walking Tours in Bratislava, Slovakia