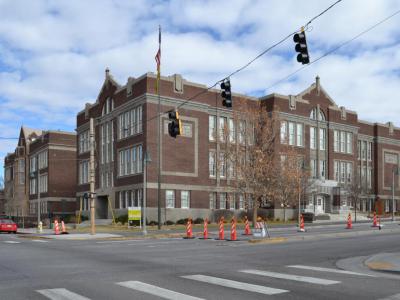 Old Albuquerque High School, Albuquerque
The Old Albuquerque High School is the historic former campus of Albuquerque High School in Albuquerque, New Mexico. It is located in the Huning Highlands neighborhood and is protected by the city as a historic landmark. The campus comprises five buildings, the oldest of which was built in 1914. After the school moved to a new location in 1974, the old buildings were left abandoned for decades before being renovated as loft apartments in the early 21st century. Old Albuquerque High was added to the New Mexico State Register of Cultural Properties in 1977.

The Old Albuquerque High campus comprises five buildings grouped around a central courtyard. All of the buildings were designed in the Gothic Revival style typical of early 20th-century school architecture.

Old Main is the original building, constructed in 1914. It is located on the southeast corner of the campus, facing Central Avenue. The three-story building was designed by Henry C. Trost and originally housed classrooms, a gymnasium, a library, an auditorium, and a science laboratory.

The Manual Arts Building was built in 1927 on the east side of campus, facing Arno Street. It has three stories and 27,000 square feet (2,500 m2) of floor area, and originally housed a woodshop and machine shop in addition to classrooms. It was designed by local architect George M. Williamson.

The Classroom Building (1937), Gymnasium (1938), and Library (1940) were all designed by Louis Hesselden and built with New Deal funding and Works Progress Administration labor. The Gymnasium, which sits at the north end of the campus, is the largest building with 68,000 square feet (6,300 m2) of floor area. The Classroom Building and the Library face Broadway on the west side of campus.

n 1974, Albuquerque High School moved to a new location about one mile (1.6 km) to the north, leaving the old campus vacant. The city eventually settled on a plan to convert the buildings into loft apartments in a joint venture with a private developer, and work began in 2001. The renovation preserved many interior details such as doors, handrails, and even blackboards. The gymnasium and library reading room are protected spaces and have also been preserved.
Sight description based on wikipedia
Old Albuquerque High School on Map
Walking Tours in Albuquerque, New Mexico