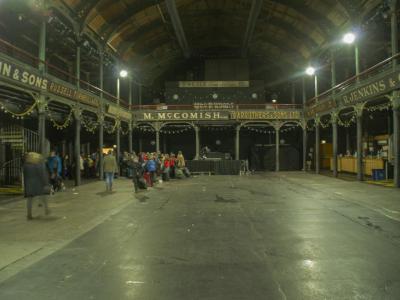 Old Fruitmarket, Glasgow
The Fruitmarket has no fruit but it does have enormous capacity. It holds 1,525 people standing and 450 cabaret style, or 600 theatre style with 300 standing. There are bars within the venue and cafes outside.

There is one common entrance for both the Fruitmarket and City Halls. The old signs of the fruit merchants have been refurbished and hung about the hall. City Halls includes the Grand Hall, a 1,036 performance space since 1841. It is Glasgow's oldest dedicated performance and meeting space and home to BBC's Scottish Symphony Orchestra.

Go through the doors of a civic center, then through another door. You are in an old wooden hall with empty fruit market stalls and amazing acoustics. Spoiler alert: there are no seats. You must stand, mostly. It's an adventure.
Walking Tours in Glasgow, Scotland