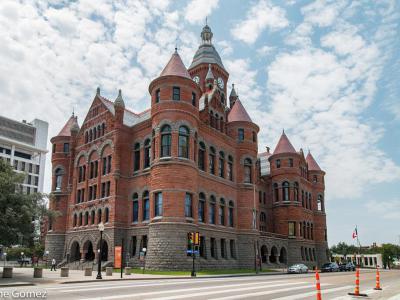 Old Red Courthouse, Dallas
No, you haven't walked into the land of Hansel and Gretel, but you are looking at the massive red sandstone building that served as the fifth seat of government in Dallas County. Built in Romanesque Revival style with gigantic rounded arches, this courthouse was completed in 1892, replacing an earlier structure that burned in 1890.

The Old Red Courthouse, as it is known, was constructed of Arkansas gray granite and Pecos red sandstone. The lower portion is made of blue granite that is also used on window trims, providing a pleasing contrast with the red stone.

The actual design is dominated by eight circular turrets. Notice the acroterium (gargoyle-like figures) on the roof. A clock tower, complete with a 4,500-pound bell, originally topped the building but was removed in 1919. The clock tower bell was so large that it had to be cut into three pieces and lowered to the ground. A few Dallas youngsters particularly felt the loss, because they were accustomed to playing in the tower and causing the clock to ring 13 hours at 1:00.

After having undergone several renovations, the building houses a museum on the 2nd floor, which is set up in quadrants, each separated by era, and covers a wide range of issues, including segregation, Jim Crow laws, the successful locomotive story, the wide array of Texas consumer smash products, the cowboy/cowgirl rugged outdoor culture and much more. If you have some free time, you can probably spend an interesting hour or so learning about the culture, history, education, and politics from different periods in the city's history. The iron staircase is a real work of art from 120+ years ago, too!

Why You Should Visit:
Opens a window into the history of Dallas like no other museum does! The architecture is stunning, and the interior layout/design makes it very easy to walk through without missing a thing.
Old Red Courthouse on Map
Walking Tours in Dallas, Texas