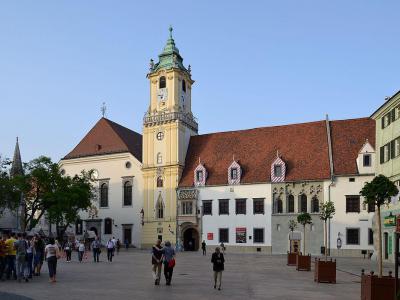 Old Town Hall, Bratislava
The Old Town Hall of Bratislava is an excellent example of Gothic architecture. Originally constructed in the 14th century, with the tower dating back from approximately 1370, this is one of the oldest stone buildings in the Slovakian capital. It was originally designed to accommodate soldiers guarding the fortress surrounding the medieval town.

Presently, the Old Town Hall represents a complex of buildings created through merger of several adjacent townhouses, namely: Jacobus' house with a tower, Pawer's house, Unger's house, and the Apponyi palace. Over the ages, the property had undergone numerous reconstructions and served different purposes: as a prison, mint, market, municipal archive, and arsenal depository, until it finally became a town hall in the 15th century. In this capacity it had served until the late 19th century.

During the Renaissance period, the complex passed through various transformations, including those after being damaged by an earthquake and then fire.

Today, it houses the Bratislava City Museum, featuring a collection of historic artifacts: cannonballs; dungeons with instruments of torture; antique weaponry and armour; as well as paintings and miniatures. One of the cannonballs, the one embedded in the tower wall, is of a particular interest to visitors. It has been there since 1809, resulted from the bombardment of the city by the invading Napoleonic army.

In the summer, the courtyard plays host to musical concerts. In the attic of the Apponyi Palace there is a Study Depository of Glass and Ceramics. The beautifully-tiled roof of the building is one of the city's most recognizable landmarks. The top of the Old Town Hall tower is open to visitors, as part of the Bratislava City Museum exhibition, offering a round view of the old part of Bratislava and its environs.
Walking Tours in Bratislava, Slovakia