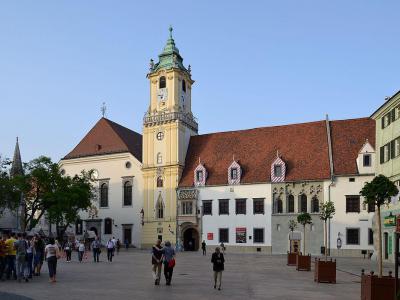 Old Town Hall, Bratislava
The Old Town Hall of Bratislava is an excellent example of Gothic architecture and was originally built in the 1300s. It stands between Main Square and Primate's Square and was originally designed to accommodate soldiers guarding the fortress surrounding the medieval town. During the Renaissance period, the building underwent transformation after being damaged by earthquake and then fire. Its beautifully tiled roof is now one of most recognizable city's landmarks.

In the course of the centuries the building had been used as a prison, mint, market, archive and arsenal until it finally became a Town Hall. Today it houses the Bratislava City Museum, featuring a collection of historic artifacts including cannonballs, dungeon instruments of torture and antique weaponry. One cannonball is of particular interest to visitors. You can find it embedded in the tower wall. It has been there since 1809 during bombardment of the city by the invading Napoleon troops.
Walking Tours in Bratislava, Slovakia