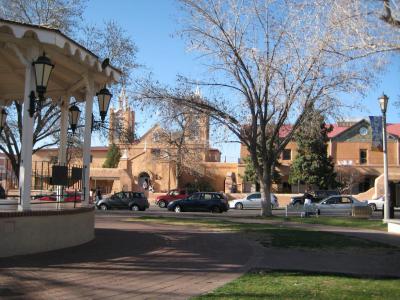 Old Town Plaza, Albuquerque
Old Town Plaza is a historic area of Albuquerque that is located between Mountain Road and Central Avenue. Visitors can easily stroll through the Old Town Plaza to enjoy a taste of New Mexico's history.

Old Town Plaza is the center of Old Town, which is thought of as the "Heart of Albuquerque." The area was founded in 1706 by Francisco Cuervo y Valdés, a knight of royal lineage who became governor of New Mexico.

The plaza is, understandably, located between North and South Plaza Streets. It consists of a green space and a central gazebo that is a focal point for many festivals and community gatherings.

Visitors can see a number of historic buildings from the vantage of Old Town Plaza. They will find San Felipe de Neri Church to the north, the Old Town Emporium to the south, the Yucca Art Gallery to the east and the Ampola Gallery to the west.

It's easy to reach any location in Old Town Albuquerque from the square. In fact, much of downtown Albuquerque is only a few minutes away by foot.
Walking Tours in Albuquerque, New Mexico