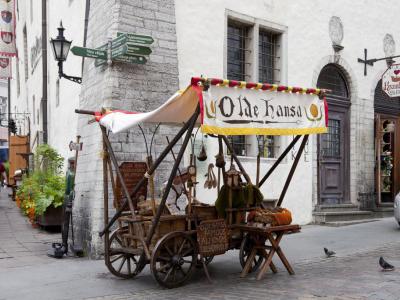 Olde Hansa Krambude Restaurant and Gift Shop, Tallinn
Olde Hansa Restaurant creates an authentic medieval dining experience. Olde Hansa means the old tribe. Your memorable meal is served in a medieval atmosphere complete with candlelight. Sit at a wooden table and admire the handmade tapestries and wooden ceiling beams.

Drink handcrafted brews from traditional goblets. Don't miss the delightful cinnamon-spiced mead. Enjoy fabulous dishes from 700-year-old recipes. Contrary to popular opinion, sweet potatoes weren't served until Christopher Columbus discovered them in the new world. Forks also weren't used in medieval times, so you'll use a knife and spoon.

To complete the medieval immersion experience, servers are dressed in medieval attire. Staff play 15th-century music on flues, the fiddle, and bagpipes. Appetizers include cranberries, carrots, apples, and cheese. Hunted game was a staple in medieval times, so you'll find bear, moose, and elk on the menu. Spices include saffron, cloves, black pepper, cinnamon, ginger, and cardamom. Apple pie is a popular dessert choice.

Olde Hansa Gift Shoppe seeks to recreate the craftsmanship that existed centuries ago. The Gift Shoppe sells authentic medieval shoes, silver jewelry, leatherwork, metalwork, glassware, and ceramics. You'll also find delicious handcrafted sweets.
Olde Hansa Krambude Restaurant and Gift Shop on Map
Walking Tours in Tallinn, Estonia