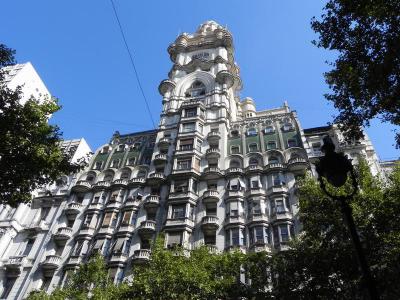 Palacio Barolo (Barolo Palace), Buenos Aires
(must see)
The Palacio Barolo was a building used to house offices by Argentine textile magnate, Luis Barolo. It was the tallest building in South America until 1935.

Luis Barolo commissioned architect Mario Palanti to design the building in 1910 because he believed like many Europeans in his day, that Europe would soon cease to exist because of the many wars being fought at the time. Palanti was a great admirer of Dante Alighieri and designed the Palacio Barolo based on his work, The Divine Comedy. It has 24 floors including 2 underground floors and 22 above. The basements and ground floor represent Hell, the first to 15th floors Purgatory and the 16th to 22nd floor represent Heaven. The height of the building was 100 meters which was four times the allowable height for buildings in the avenue. Luis Cantilo, the then mayor gave the structure a special concession and allowed the increased height. It was completed in 1923 and was inaugurated by the blessings of the papal representative, Monseñor Giovanni Beda Cardinali.

Bilingual English and Spanish tours take visitors on a tour of the building telling them of its owner and describing how Dante's Divine Comedy was factored into the design. The balconies of the top floor offer panoramic views of the city and it has a revolving lighthouse fitted with 30,000 spark plugs that flash messages of important events. The building was declared a National Historic Monument in 1997.

Why You Should Visit:
Stunning building, knowledgeable tour guide, and a remarkable level of access.

Tip:
All tours are available by reservation only; check out the official website for the exact dates & times.
Night tours are worth the additional cost – amazing night views from the lighthouse, plus tango performance with a bit of wine tasting.
Palacio Barolo (Barolo Palace) on Map
Walking Tours in Buenos Aires, Argentina
Useful Travel Guides for Planning Your Trip
---