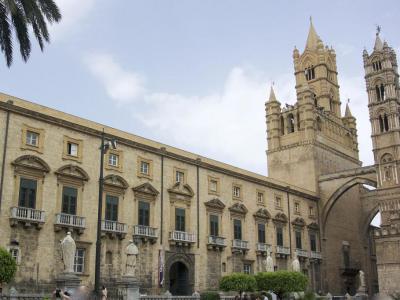 Palazzo Arcivescovile (Archbishop's Palace), Palermo
The Archbishop's Palace was commissioned by Archbishop Beccadelli Simone di Bologna and built in the 15th century. The palace is attached to the cathedral by an arch and an ostentatious Gothic tower. Throughout the centuries, the palace has housed various archbishops.

Today, the palace is home to the Diocesan Museum of Palermo. The museum is housed in 15 rooms and features a variety of religious art.

Visitors will find an 1171 Madonna of the Pearl from Santa Maria del Cancelliere church in Room II. This room also holds various 13th and 14th-century artworks.

Room III houses a variety of crosses. Rooms IV, V, and VI house excavations from the Archaic age, Byzantine period, and medieval era. These excavations are from the Archepiscopal Palace.

In Room VII, visitors will find 15th-century sculptures, such as the marble Madonna by artist Domenico Gagini.

Room VIII contains sculptures from Palermo Cathedral. These 16th-century sculptures were mostly marble bas-reliefs by Antonello Gagini and his students. Room IX displays 17th and 18th century locally crafted sculptures.

Visitors will find paintings by Mario Di Laurito, Pietro Novelli, and assorted 18th-century works in the remaining rooms.
Palazzo Arcivescovile (Archbishop's Palace) on Map
Walking Tours in Palermo, Italy