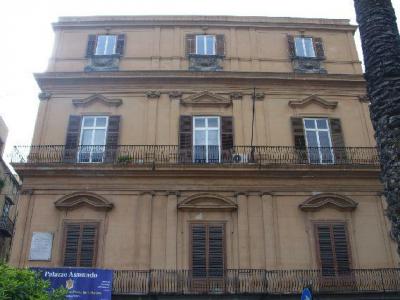 Palazzo Asmundo (Asmundo Palace), Palermo
Construction on Palazzo Asmundo began in 1615 and wasn't completed until 1767. The palace has belonged to several different families over the centuries. The Joppolo family sheltered Maria Cristina in the palace. Maria Cristina, daughter of Ferdinand III of Sicily, sought refuge here together with her husband Carlo, Duke of Genoa and Sardinia. Today, a plaque commemorates this event.

In 1764, Giuseppe Asmundo commissioned artist Gioacchino Martorana to paint beautiful frescoes throughout the palace.

Another plaque commemorates the births of painter Anna Turrisi Colonna and her sister Giuseppina in 1821 and 1822.

Today, the palace is home to a museum that features several collections and exhibits. For example, visitors will find a collection of 19th-century porcelain. Visitors will also find a variety of weapons on display and can admire a collection of military postcards. Another exhibit focuses on geographical maps dating from the 16th to the 19th century.

A collection of seals is also on display. Heraldic seals have been used for millennia to identify individuals and families. In addition, these seals were used to authenticate a letter. The earliest seals on display are from the 17th century.

In the courtyard, visitors will see a unique collection of horse-drawn carriages and sedan chairs.

The palace has a small cafe so guests can relax and enjoy the beautiful surroundings.
Palazzo Asmundo (Asmundo Palace) on Map
Walking Tours in Palermo, Italy