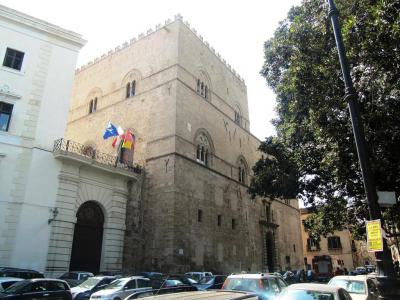 Palazzo Chiaramonte-Steri (Chiaramonte-Steri Palace), Palermo
Construction on Palazzo Chiaramonte-Steri was completed in the 14th century. It was the home of Manfredi III Chiaramonte, a powerful Sicilian lord. He commissioned the Grand Hall with its impressive painted wooden ceiling. The palace's architectural style is known as Chiaramonte Gothic, which has also been described as Romanesque-Gothic.

In 1392, Andrea Chiaramonte was executed, and the family was disgraced. In the early 1500s, the palace housed Siciliy's Aragonese-Spanish viceroys.

Charles V, the Holy Roman Emperor and King of Sicily, ceded the Maltese Islands to the Order of the Hospital from here in 1530. After that, the palace housed the Royal Customs.

From 1600 to 1782, the Holy Inquisition was held in the palace. The palace is now a museum, and guests can see the paintings and inscriptions that prisoners left on cell walls. In addition, the museum houses the famous Vucciria painting by Guttuso.
Palazzo Chiaramonte-Steri (Chiaramonte-Steri Palace) on Map
Walking Tours in Palermo, Italy